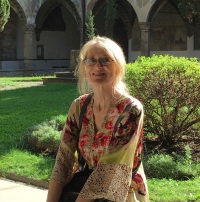 Curriculum Vitae :
Anne Gry Andersen is a Danish Contemporary artist.
Born in Denmark in 1957.
Her skills are Autodidact. Obtained via lectures from different Contemporary Danish artist and
from her own studies.
From her childhood art has had a great impact on her. And more or less by incident, she seriously
began her artist career in 2010.
Right from the beginning as a Contemporary artist, Anne Gry Andersen had an urge to show her
work to the Public.
And from the start; she had great succes.
Her C.V. is long and contains a high amount of different kinds of exhibitions.

Solo exhibitions ;
Frederikssund / DK, Hundested / DK and Copenhagen / DK.

Art Fairs ;
"KVINDER OG KUNST 2014"/ Hillerød / DK ( "WOMEN AND ART" ), " MUSICON ART FAIR ,
2013, 2014, 2015, 2016, 2017/ Roskilde /DK, "ART NORDIC 2018" / Copenhagen /DK.

Representation at galleries ;
Galleri CelebR / Roskilde / DK, Helsingør Kunstgalleri / Elsinore/DK, AtelierSalens Galleri,
Jægerspris /DK.

Curated exhibitions ;
HCU 2016, Hvidovre, Copenhagen / DK, ROSKILDE ÅBEN 2019, Roskilde / DK. HCU 2020, Hvidovre Copenhagen / DK
XII FLORENCE BIENNALE

Art associations ;
Lægehuset i Slangerup , Slangerup / DK, CCBR, Ballerup / DK, The National Police, Hvidovre,
Copenhagen /DK. Metronomen, Copenhagen
Artist associations ;
Elværket, Frederikssund /DK, METALSKOLEN, Jørlunde/ DK, Skibby Bymidte, Skibby / DK,
GÅGADEN, Frederikssund / DK, Helligåndshuset, Copenhagen / DK, Hvidovre bibliotek, Hvidovre,
Copenhagen / DK, Birkerød bibliotek, Birkerød / DK. Marienlyst Castle

Artistic projects ;
" PICTURE DIALOG 2013", collaboration with Roskilde Fortællerlau ( Tells guild ), three artwork
made from a specific told story.
Frederikssund Klimaforening, artwork used as illustrations to a novel. A novel about the climate Changes. Exhibition witth norweigian artist T. Øksendal, "CHAMBRETTES" at Gulddysse kulturgård, Roskilde
Represented at the exhibition for celebration of the Grand opening of Crownprincess Marys Bridge in Frederikssund.
Member of following artist associations :
Kunst på Musicon ( MusiconArt ), K21, 2020Vision, Fjordkunst.dk
Represented at following web. galleries :
Kunstnernes.com, MyArtSpace.com, Accesart.com, Artavita.com

Plans for 2020 :
The LEONARDO DA VINCI PRIZE, january 25 th. Florence, Italy.
PARALLAX ART FAIR, October 16 th. to 18 th., Kensington Town Hall, London, England.